Things To Do In Dubai
Are you familiar with a list of things to do in Dubai? You must be, if you are an adventure seeker and if you love traveling.
You may think that Dubai is all about great malls and air-conditioning buildings. But this rambling desert city has a new and exciting invasion of cultural institutions, shopping complexes, and galleries all centered at luring in a new generation of visitors. Whether it is about an adrenaline rush to jump out of a plane or to watch the dramatic fountains gush 500 feet in the air of the city, almost everything is possible in this city. Well, it is not only a random talk; we have a list of things to do in Dubai.
Burj Khalifa
Let's discover Burj Khalifa – the tallest building of the world. It is a global icon and a feat of engineering, which is genuinely marvelous. It is beautiful not only in engineering but also in imagination and design. Since its opening in 2010, the 828m Burj Khalifa has drawn visitors from all over the world. This stunning building is the conceptual heart and soul of Dubai city. It inspires the viewers to imagine new possibilities. An abstraction of the Hymenocallis flower inspired it, and the towering structure has mainly three portions arranged around a central core.
When you see it from the above, it is consistent with the design of onion-dome that is frequently found across a number of Islamic architecture, albeit on a much smaller scale. For an exceptional experience, visitors can choose to dine in the restaurant and lounge atmosphere on the 122nd floor. Or you can encounter new heights at the Lounge, Burj Khalifa, which is scattered across stories 152, 153, and 154, presenting it the tallest lounge on the planetoid.
Burj Al Arab
At the Burj Al Arab, afternoon tea is the best way to spend your afternoon in Dubai. Burj Al Arab is considered one of the most luxurious hotels in the world. It is so luxurious that it is said to be rated seven stars. The sail-shaped structure is one of the most iconic landmarks of Dubai, and it is a must-see attraction for anyone even who often visits Dubai. However, tourists can simply walk up to the hotel.
One can only access it via a private bridge, as the island itself is 280m offshore. To cross the bridge, you have to prove that you have business at the hotel. The most popular way for tourists to do that is to book an afternoon tea at the Burj Al Arab. Of course, it is one of the fascinating things to do in Dubai.
Dubai Mall or Mall of Emirates
A visit to the Mall of Emirates is a must-see in Dubai, which is home to the ski field, a cinema complex and more than 630 of the best brands of the world. Just stop, dine, and stroll under the glamorous Fashion Dome. With its wrought-iron ceiling reminiscent of European railways, brands like Chanel, Apple, Missoni, and Burberry, just to name a few. On the ground
floor, something is always going on, from fashion shows to family ventures. If you feel like a break from roaming the stores, check out any of the attractions available on site. Well, the most popular attractions include Magic Planet, Ski Dubai, and DUCTAC (Dubai Community Theatre & Arts Centre). Other than that, there is an enormous VOX cinema complex as well.
The Dubai Frame
Get ready to take a selfie from the largest photo frame of the world, situated in Dubai. Dubai already has lots of attractive points, and it is an addition to the impressive skyline as the Dubai Frame is a colossal achievement of engineering. In January 2018, the Zabeel Park-oriented Dubai Frame was opened with highly striking features not only for locals but residents and visitors also get shocked after visiting the place.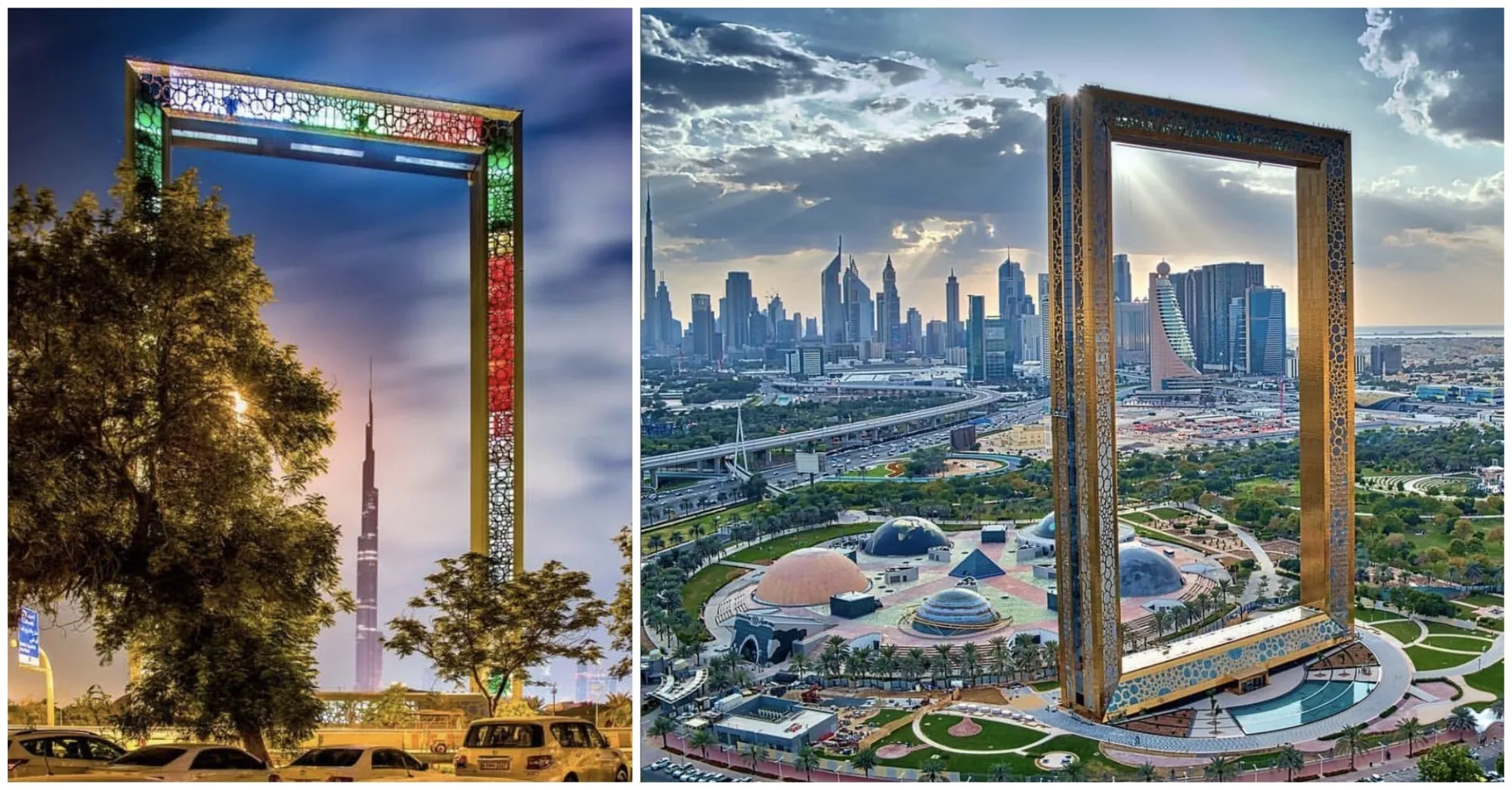 You can have a 360 experience with extensive panoramic views. You can look out upon each aspect of the city from an elevation of 150m. The wholeness of Dubai can be seen through 360 degrees of the vantage point of the Frame. Not only this, but you can even dare to step onto the glass bridge. Are you scared of it? Well, don't be.
Jumeirah Beach
After a full renovation is open now. With a striking wave-like design, the first hotel of Jumeirah is one of the most stunning and instantly recognizable structures of Dubai. Well, it continues to be a favorite for generations.
Heartfelt and personal, timelessly fun, situated upon one of the most impressive beaches of the region, it is the archetype of coastal nostalgia. You can experience a relaxed luxury that welcomes light-hearted escapes ad joyous memories. It is the place where the fresh sea breeze and the laughter in the air spread.
The legendary service of Jumeirah will make your next holiday feel like your first. Isn't it interesting to try all these things to do in Dubai at least once in your visit? Of course, it is a wonderful opportunity to soothe your nerves completely.
Dubai Desert Safari
Dubai desert safari is one of the best ways to experience Emirati culture. You can discover the beauty and customs of the desert. Enjoy a mixture of traditional and modern desert adventures with us as we are providing highly reliable and unusual packages.
Desert safaris have lots of different choices. A desert safari will be much more comfortable in the winter season. Dubai Desert safari is the perfect spot for selfies, a lovely spot for kids, or it may be an outstanding journey for a lengthy family trip. Once you get to the desert, your tour starts with the adventurous dune-bashing ride. The desert appears beautiful in the day under sunlight. Desert safari is among the prime attractions of Dubai tourism.
Dubai Museum
You must add the Dubai Museum to the list of things to do in Dubai. By visiting the Dubai Museum, you can experience vibrant miniature scenes with three-dimensional figures and informative historical exhibits. Al Fahidi Fort is one of the oldest buildings in the city, and it is a must-visit place to experience old Dubai. It was built in 1787, and once this forte was a sovereign base as well as a power of defense and prison together with weapons arsenal. Before being reconditioned throughout the rule of Sheikh Rashid bin Saeed Al Maktoum.
In the same year of 1971, the United Arab Emirates formed, and the fort was revived as Dubai Museum. You can have a glance at the everyday life of Dubai's history and genuine heritage before the oil discovery. The galleries extremely play a role in recreating notable local houses, souks, deserts, mosques, date farms, and aquatic life.
Miracle Garden
Here comes another fascinating activity to do while enjoying other things. In the Miracle Garden, you can see flowers as far as your eyes can see. At Dubai Miracle Garden, a planet of bloomy wonder is waiting for you. It is situated in Al Barsha South, which is the 72,000 sqm garden that shows perceptible structures that are completely covered with flowers.
You can dip yourself here, among 50 million flourishing flowers through the different exhibitions. You can see loads of attractions, including some peculiar layouts. Ranging from a heart-shaped pathway, pyramids, and full-size houses are only some of the sights on offer.
The flowers are precisely cared for by a team of specialized horticulturists as well as greenskeepers, so they can display the flowers at their best with every visit. Other than many exhibits, you may find the Guinness World Record for the largest flower arrangement of the world. You cannot afford to skip viewing the Miracle Garden of Dubai as it is one of the best things to do in Dubai. Here you will also see the floral version of the great Airbus A380 superjumbo aircraft that is made fully with flowers. Another great thing you will see is the Butterfly Garden that has 15,000 butterflies in nine customized domes. You must make sure to spend plenty of your time enjoying this Miracle.
Camel Ride in Dubai
In the list of things to do in Dubai, Camel riding is added, as it is the ultimate fun activity. It is an activity that is not just for adults, and even kids can enjoy a ride on these magnificent creatures. Undoubtedly, everybody will find it fascinating to be so high off the ground. While plenty of people find deserts completely barren, you might be able to view some rare wildlife like Arabian oryxes and gazelle species.
At the venue, your tour guides will explain the do's and don'ts of camel riding to you. They will make sure that your ride is smooth and carefree. Visitors often get afraid of camels, but there is nothing to fear, as camels are calm animals and you will enjoy the camel ride in Dubai. Only you have to sit back and enjoy the view.
Sand Boarding in Dubai Desert
Sandboarding in Dubai is known as one of the most wanted adventure sports in the city. While taking place in the dramatic deserts that surround Dubai, Sand Boarding has achieved immense fame and become a must-do for everyone touring the city.  The profusion of mighty sand dunes with giddy pitches and slopes have helped place Dubai as a hub for a variety of desert-based adventure sports.
If you are a foreigner or a local of Dubai who seeks sandboarding, then you are at the right place. With us, you can have a thorough explanation of finding the best Dubai Sandboarding experience.
Quad Biking
The list of things to do in Dubai is not ended yet. Quad biking is a four-wheeled fun experience that usually happens in an outdoor setting. The excitement of riding a massive bike on stunning terrains with no restrictions is unrivaled. Quad biking in Dubai ups the adventure proportion with a wild ride in the vast desert.
An all-terrain vehicle (ATV), also known as a quad bike, travels on low-pressure tires, with a seat that is overlapped by the operator, along with handlebars for steering control. Quad biking involves riding the vehicle on different terrains, in the case of the desert of Dubai, at different speeds.
Aquaventure Waterpark
You can call it a waterpark for the ages. It means that everybody is greeted at this Aquaventure Waterpark. Undoubtedly, it can be one of the most admiring things to do in Dubai. You must not forget to add it to the list. When you visit Aquaventure Waterpark, you will see that it is the largest of various waterparks in Dubai as well as it is home to some ideal record-breaking rides and charms. You can dump into old favorites as the Leap of Faith, 27.5 meters fall that holds you by a clear tube fenced by sharks and waves, or try some of the many adrenaline thrush activities, including ziplining around the park.
Other than that, you can experience marine activities, play areas for kids as well as for all ages, and private beaches at this huge exciting theme park. Atlantis The Palm is adjacent to this park so that you can have the most out of your trip to Dubai. You will see all ranges of park slides available for kids taller than 1.2 meters, as well as little ones also can have delight in the Splashers Play Area of Children. It has a maze of kid-friendly tunnels together with slides, tubes, and climbing frames.
Hot Air Balloon Ride
Besides other things to do in Dubai, don't forget the hot air balloon ride. The  Pristine Dubai desert is a special landscape for hot air ballooning. Although it is highly attractive and full of thrill activity, so people don't want to miss it out. With the only falconry of the world from the sky performance and riding in vintage Land Rovers by the desert, you can have an amazing experience.
A hot air balloon ride is the ultimate desert adventure where you can have a delicious breakfast in the Heritage camp. Once you have made memories in the ride, you will again want to do this activity. Well, it is not a big deal, but in a limited time, you can divide all of your time to all the things to do in Dubai. Now, definitely, your hunger for thrill activities is satiated fully at this point. Don't miss it out and visit again.